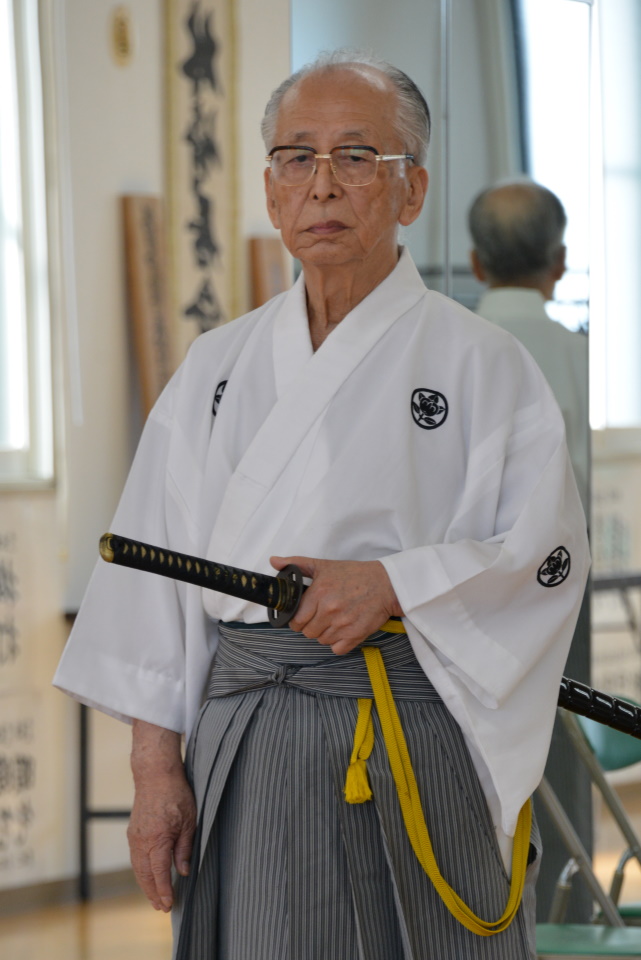 Mutsuyoshi Ishigaki — Iaido teacher, 10th dan (Hanshi) Muso Jikiden Eishin Ryu Iai Heiho, 10th dan (Hanshi) Zen Nippon Iaido Renmei (All-Japan Iaido Federation). Born on 5th December 1925 in Abashiri-kun, Hokkaido, Japan.
Practiced kendo in his youth, achieving the level of 5th dan. Started studying iaido under his father Ishigaki Hogaku (Toyotaro) 10th dan (Hanshi), and was later the student of Kōno Minoru Hyakuren, the 20th head of the school (Soke) of Muso Jikiden Eishin Ryu,
Fukui Torao, the 21st Soke, and Ikeda Takashi, the 22nd Soke.
Mutsuyoshi Ishigaki was the vice president (Fukukaicho) of the All-Japan Iaido Federation, the president (Kaicho) of the Hokkaido Iaido Federation and the president of the Sapporo Iaido Federation. He was also the head of the "Eishinkan" dojo in Sapporo.
Iai techniques performed by Sensei Ishigaki are the embodiment of pure, energetic and lightning-quick movements.
Sensei Ishigaki shared his knowledge with many pupils who continue to practice and expand Iai not only in Japan but also in Europe.
Sensei Mutsuyoshi Ishigaki passed away on 14th May 2019.